I'm not so sure now. A guy over at Uni Watch in Chicago -- dedicated, as it says, to "the obsesive study of athletics aesthetics" -- just did an amusing and informative piece on the evolution of the White Sox uni's (after having surveyed the Cubs') which will remind you, if you'd forgotten, just what ugly can *really* mean. Remember the shorts? Anyway, check it out, it's good ugly fun:
http://sports.espn.go.com/espn/page2/story?page=lukas/080701
The opener: "The virtual ink had barely dried on Uni Watch's recent survey of Cubs uniform anomalies when the feedback started pouring in from disgruntled White Sox fans.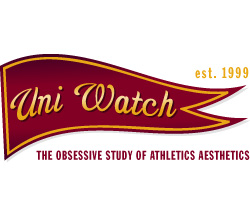 The typical communiqué went something like this: "After all the crazy looks we've had over the years, you've somehow decided that the Cubs have had history's most innovative, most eccentric uniforms?! It's bad enough that the Sox can't get a fair shake in their own city, where it's all Cubs, all the time. But you'd think a uniform columnist would be able to recognize the obvious, namely that the Sox have had the most wide-ranging uniform history of any team in the bigs."
Fair enough. Uni Watch, ever obsessed with small details, was drawn to the subtlety of many of the Cubbies' quirks, but there's something to be said for a team that puts its uni abnormalities right in your face. And it doesn't get much more in your face than the ChiSox, who over the years have had some of the game's most bizarre, groundbreaking uni designs.
So in the interest of equal time, here's a top-10 breakdown of great (or at least noteworthy) moments in White Sox uniform history, along with Uni Watch's assessment of which ones might've been better off staying on the drawing board."