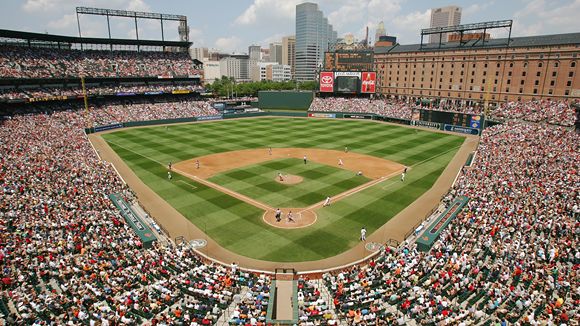 The Orioles fan base is starting to come back, and recently as seen here... CBS Baltimore and here... Balt Biz Journal there have been multiple reports about the attendance growth at Camden Yards being the best in the majors. While I can't argue with the facts presented, and love the fact that support for the Orioles is on an upswing, the timing of the release of these articles is certainly a best case scenario for showing the best attendance gain possible.
Last August was arguably the best month of baseball ever at Camden Yards. In that month the Orioles played to a 19-9 record, ended a streak of 14 years of futility, with all four home series against division rivals during a playoff race. They also had statue dedication ceremonies for Cal Ripken Jr and Brooks Robinson during that month. Overall for the month Camden Yards had 3 sellouts and averaged a little over 35,100 fans in 13 gates (14 games with a single-ticket doubleheader against Toronto).
Where the Orioles end up this season remains to be seen, but going into September this is a team that looks they are going to stay stuck a few games outside of the playoff hunt, and has no decent promotions (Plaid Cap, 1 Dugout club game, and fan appreciation weekend is all that is planned for Sept). Do the Orioles expect to come even close to the same turnout this September? These reports are just setting the fan base up to look terrible once the season is over and they slip several places in the rankings.