Game Time: 7:05 | TV: MASN, NESN | Radio: WHFS, WEEI (BOS)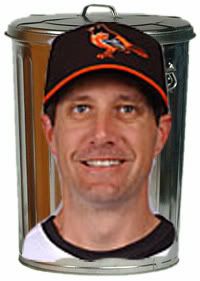 Steve Trachsel, RH Julian Tavarez, RH (5-7, 5.26) (6-8, 5.08) B. Roberts 2b .317 J. Lugo ss .221 C. Patterson cf .266 D. Pedroia 2b .313 N. Markakis rf .291 D. Ortiz dh .321 K. Millar 1b .270 M. Ramirez lf .299 M. Tejada ss .308 K. Youkilis 1b .304 R. Hernandez c .263 M. Lowell 3b .306 J. Payton lf .274 J. Varitek c .269 J. Gibbons dh .220 C. Crisp cf .279 C. Gomez 3b .308 W. Pena rf .227
Let's go back to June 8th, shall we? It was a simpler time - the Orioles sucked, and we all knew it. Sure, we were hopeful that any day now Brain Surgeon Sam would get the axe, but there was one circumstance that left us amazed and in love - Steve Trachsel was a winning pitcher in the A.L., and would win again that day, to push his record to 4-2.
Remember, don't you? The air looked cleaner, the sun shone brighter, kids in Maryland actually knew what rain felt like... All the world was new, as we awaited what fresh wonder each day would bring, now that Steve Trachsel was winning games for our Orioles.
OK, it's today. Trachsel has won once since June 8, and lost FIVE in a row until beating Tampa Bay, and I'm not so sure that counts as a Major League win these days. The Orioles are playing great, so great that Dave Trembley doesn't have to learn how to spell the word I-N-T-E-R-I-M anymore. But our boy Trax? We couldn't give him away at the non-waiver trade deadline, because nobody, and I mean nobody, wanted him.
Our only consolation? Julian Tavarez is apparently every bit as bad as Trachsel. That means the O's should see the bullpen BEFORE the 8th, when the SAWWWWWWWX can run Gagne and Papelbom out to the hill to shut us down.
And consider this thought: With St. Guts throwing tomorrow, if by some miracle Trax lasts longer than Tavarez and the O's win this game, our beloved Bal'mer O-ree-o's, hon, can sweep the Red SAWWWWWWWX in their own yard.
One last thing. Let me be the first to complain that Trax is even getting this start instead of Garrett Olson, who was, again, lights out for Norfolk last night.
Have at it, kids. Lineups to be added before the game.