Game Time: 7:05 | TV: MASN, YES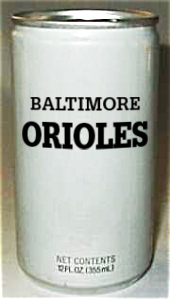 Daniel "Nuke" Cabrera, RH Jeff Karstens, RH (8-12, 5.14) (0-2, 10.13) Line ups: B. Roberts 2b M. Cabrera cf C. Patterson cf D. Jeter ss N. Markakis rf B. Abreu rf M. Tejada ss A. Rodriguez 3b K. Millar 1b H. Matsui lf A. Huff dh J. Posada c M. Mora 3b J. Giambi dh R. Hernandez c R. Cano 2b J. Payton lf W. Betemit 1b
I subscribe to the notion that last night, while it sucked, was a good night for the Orioles. They didn't quit, they broke through against pone of the game's best closers, and Samuel even admitted today he shouldn't have sent Mora. Do you remember Trebelhorn ever doing that?
Tonight it's going to be "can you top THIS?" as Danny Cabs and Jeff Karstens (who hasn't started a game since April) try to see who can serve up more runnage.
Oh yeah, and Yankee Stadium still sucks.
Go O's!