Game Time: 1:07 | TV: MASN, RSN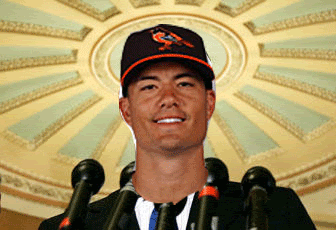 Jeremy "St. Guts" Roy "Doc"
Guthrie, RH Halladay, RH (7-4, 3.50) (14-5, 3.99)
I have a bad feeling about this. From Yahoo! Sports preview:
"The 2003 AL Cy Young Award winner is 14-4 with a 2.92 ERA in 23 games - 19 starts - lifetime against Baltimore - his most wins against any opponent. He has yet to face the Orioles (57-64) in 2007, but went 3-0 with a 2.76 ERA in four starts against them last season."
And St. Guts ain't exactly been dominant his last three starts. But all's not lost. See this:
"Guthrie remains 5-0 on the road this season in 15 games - 10 starts - but his ERA away from Camden Yards rose from 2.70 to 3.25 with his outing at Yankee Stadium.
"In his only career start against the Blue Jays, Guthrie allowed three runs and seven hits in seven innings of a 5-4, 10-inning loss on May 24."
So which trend continues? Tune in and find out!