Game Time: 1:05 | TV: MASN, NESN | Radio: WHFS, WEEI (BOS)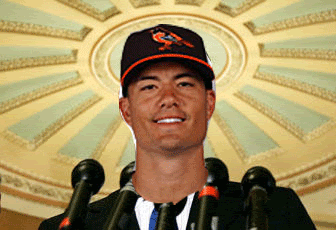 Jeremy (St. Guts) Guthrie, RH Tim Wakefield, RH (7-3, 2.89) (12-9, 4.59) B. Roberts 2b .316 D. Pedroia 2b .318 C. Patterson cf .266 K. Youkilis 1b .304 N. Markakis rf .291 D. Ortiz dh .321 K. Millar 1b .273 M. Ramirez lf .296 M. Tejada ss .308 M. Lowell 3b .304 A. Huff 3b .247 C. Crisp cf .279 J. Payton lf .270 E. Hinske rf .204 J. Gibbons dh .220 D. Mirabelli c .183 P. Bako c .215 A. Cora ss .253
Finale of a 3-game series with the two teams splitting the first two games.
As far as last night, the expectation was a loss before the game, and the expectation was a loss once we saw Shubacca walk out of the bullpen. But while Trax was actually pitching, that recent good vibe this team has given off was present again.
Does St. Guts right the ship today? He's not the one I'm worried about. It's the 9 guys holding pieces of wood in their hands when they walk to the batting box that I'm worried about. Guts will do his job - 2 ER or less in 7.1 IP, if I had to guess. But will his compatriots score enough to win?
Win this game, the O's are back to 5 games under .500 and a chance to get to 2 game under with a sweep of Tampa. Lose today, and a lot of the good feelings built up since the All-Star Break dissipate rather quickly.
Let's go O's!