Game Time: 1:40 | TV: MASN2, ION | Radio: WHFS, WHNZ (FLA)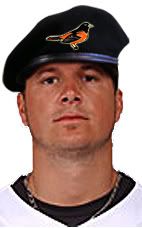 Erik Bedard, LH Andy Sonnanstine, RH (11-4, 3.05) (1-6, 5.50) B. Roberts 2B A. Iwamura 3B C. Patterson CF C. Crawford LF N. Markakis RF B.J. Upton CF M. Tejada SS C. Pena 1B A. Huff 1B D. Young RF M. Mora 3B B. Harris 2B J. Gibbons DH J. Gomes DH J. Payton LF J. Wilson SS P. Bako C J. Paul C
Talk about a mismatch - the American League's best starting pitcher against arguably its worst. We can debate all day about why Bedard didn't start yesterday, but that's water under the bridge. This game is the very definition of a winnable game.
How good has Bedard been? From Yahoo! Sports: "Bedard (11-4, 3.05 ERA) has gone 7-0 with a 2.01 ERA to lead Baltimore (51-58) to a perfect record in his eight outings since June 21. In that stretch, he leads the AL in wins, ERA and strikeouts. He hasn't lost since giving up three runs in five innings of a 6-1 defeat against Colorado on June 10."
Expect Mora back in the lineup, Roberts back at 2B and Trembley to have a options on his bench. When the details of the roster move that brings Mora back are made public, I'll update this entry.
Update [2007-8-5 14:37:4 by duck]:
The Orioles today announced that they have activated Melvin Mora from the 15-day disabled list and optioned Luis Hernandez to Double-A Bowie.
Mora was placed on the disabled list on July 14, retroactive to July 13, with a left foot sprain. He originally suffered the injury on July 1 and had a recurrence during the game on July 12 vs. Chicago. He has batted .265 with 12 homers and 41 RBI in 79 games this season.
Hernandez batted .333 in 13 games with the Orioles since being recalled on July 7.
And Brandon Fahey remains with the O's. Go figure.
Let's go O's.