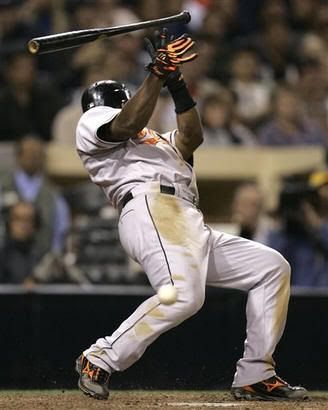 And the saga of Miggi's "misunderstood" trade request continues. In today's The (Baltimore) Sun:
TORONTO - A day after expressing some frustration after he was left out of the Orioles' lineup, shortstop Miguel Tejada said his reaction was spurred by the team's recent run of losses, not by manager Dave Trembley's decision to give him a day off.

"I knew I was going to have a day off the day before, and I had no problem with that," said Tejada, who was back in the lineup last night. "I get mad because I want to do something better here. The losing part, that's the problem. It's tough on all of us."

Trembley approached Tejada earlier this week and informed the shortstop that he was going to start Luis Hernandez in Thursday's series finale against the Los Angeles Angels. Trembley asked Tejada whether he wanted to serve as the team's designated hitter, but Tejada declined.
So, just to clear things up...
1. Miggi KNEW he was getting the day off. So the whole "I don't know what they're doing" rant? Yeah, not so much.
2. AND he was offered the chance to DH and turned it down. So, what happened to "They have somebody that can play short. That would be nice for me." So why not DH, Miggi?
3. AND he DID say he wanted to be traded. Let's go to the videotape...."Then I can go somewhere else next year." That's sounds like a trade request. So don't say you didn't say or explain it away with "losing's tough." YOU asked to be traded. And YOU brought it up in the interview.
This is getting old really quick. Whenever Miggi doesn't get what he wants, which, let's face, isn't terribly often, he whines like a little kid who's been told he can't have a second dish of ice cream before bed.
And if he's not going to be a part of The Next Great Orioles Team, then maybe it is time to trade him for players who might be.