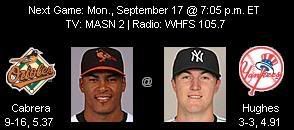 From MLB.com:
BAL: RHP Daniel Cabrera (9-16, 5.37 ERA) Cabrera is 2-2 with a 2.73 ERA in five career starts at Yankee Stadium.
NYY: RHP Phil Hughes (3-3, 4.91 ERA) Hughes is 0-0 with a 3.60 ERA in one career outing against the Orioles.
Player to watch Baltimore's Aubrey Huff is hitting .667 (8-for-12) with two doubles, one triple and two RBIs over his last three games. Since Aug. 1, he is hitting .391 (52-for-133).
Someone else can pretty it up. I've got soccer with the boy tonight.
B. Roberts 2B    J. Damon CF
T. Redman CF     D. Jeter SS
N. Markakis RF   B. Abreu RF
M. Tejada SS     A. Rodriguez 3B
K. Millar 1B     H. Matsui LF
A. Huff DH       J. Posada C
M. Mora 3B       J. Giambi DH
R. Hernandez C   R. Cano 2B
J. Payton LF     D. Mientkiewicz 1B