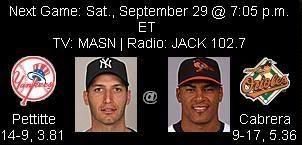 Interesting tid-bits from Diamond Dave on Roch's blog:
Manager Dave Trembley was asked about using Cabrera as the closer next season. Can we please retire that question?
"You have to have command," Trembley said.
That would be a "no."
You also need an even temperment. Does Cabrera have one?
"You can probably ask Dustin Pedroia that question," Trembley replied with a chuckle.
Go O's.