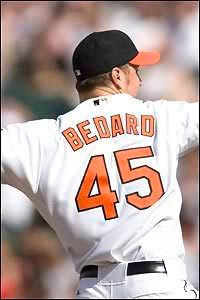 Erik Bedard may not pitch again this year.
That wonderful piece of news was buried in a story on The (Baltimore) Sun's website concerning Kurt Birkins' first start tonight. Specifically, it said:
Trembley acknowledged he has no idea when injured ace Erik Bedard will be able to pitch again.
Because of a strained right oblique muscle, Bedard, the major league leader in strikeouts, hasn't picked up a baseball since starting Aug. 26 against the Minnesota Twins. Bedard likely will return to Baltimore and see a team doctor later this week.
Asked if it's possible that Bedard won't pitch again this season, Trembley said: "That's not what he wants. He wants to pitch again. Whether he'll be able to hasn't been determined."
When posed the same question, Orioles vice president Jim Duquette said: "You can't predict that. I just know it's not getting any better."
Just wonderful. Go O's. And take The Gnats with you.