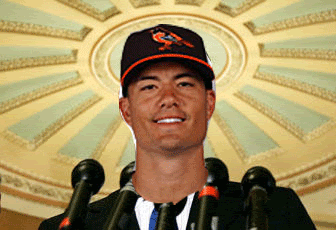 What most level-headed O's fans have been hoping for the last month has been confirmed - Jeremy "St. Guts" Guthrie is indeed the Opening Day starter for your 2008 Baltimore Orioles.
From today's The (Baltimore) Sun:
FORT LAUDERDALE, Fla. - Orioles manager Dave Trembley named Jeremy Guthrie his Opening Day starter today, ending weeks of speculation.
Guthrie and veteran Steve Trachsel appeared to be the two finalists. Trembley said he notified Guthrie before the right-hander made yesterday's start in Jupiter, Fla.
"I thought about the entire situation for a long time and I just think at this particular point and time, it's well-deserved," Trembley said. "The guy certainly showed us what he could do last season, he's had a tremendous spring and I think it's the right thing to do. I think it sets up our rotation the best possible way for us."
Go O's!